Description
Snap-on cap
Delivered in its box gift with one tip and one cartridge (non contractual photo).
The choice of the tip is made when ordering, other tips are sold in option.
Refillable
felt-pens

with universal standard cartridges

Lilac purple, Ruby red, Apricot orange, Black Onyx, Amethyst Violet , Cobalt blue, Tahitian blue or Malachite green, YOOKERS offers a collection of inks, rich in 8 new colors in cartridges and glass bottles.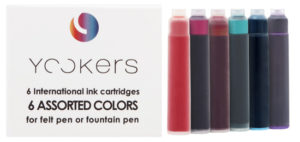 Refillable
felt-pens

with a piston converter and ink
YOOKERS felt-tip pens and rollers accept all standard universal ink cartridges, but also, with its piston converter, most bottled inks on the market.