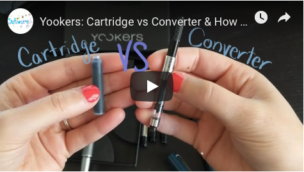 Cartridge vs Converter : How to use it.
how to fill a felt-tip pen
The parts of your felt-tip pen
Your felt-tip pen consists of four parts when assembled—the cap, the tip, the barrel, and the ink reservoir. Most reservoirs are either a piston converter or a cartridge . The converter requires fountain pen bottled ink. The cartridge is a self-contained, disposable unit filled with ink. Removing the barrel. First remove the cap. Then remove the barrel by turning it counterclockwise.
1. Filling with a fountain pen converter
Place the converter, tip first, into the bottle of ink until the tip is entirely covered. Twist the piston converter counterclockwise at the top. This forces the air out of the converter. Then twist the top of the piston converter clockwise to draw the ink up into the converter. While holding the tip above the bottle of ink, slowly twist the piston converter counterclockwise until a bead of ink flows from the tip . Gently blot excess ink from the tip with a lint-free cloth or blotter paper.
2. Inserting a fountain pen cartridge
Remove the piston converter by gently pulling it away from the tip. Insert a fountain pen cartridge into the tip and push firmly until the cartridge seats itself. You will hear a small click. You can easily switch between bottled ink and cartridges by rinsing the nib and piston converter with cool water periodically.